Heating and Cooling Systems Repair Experts in Greenwood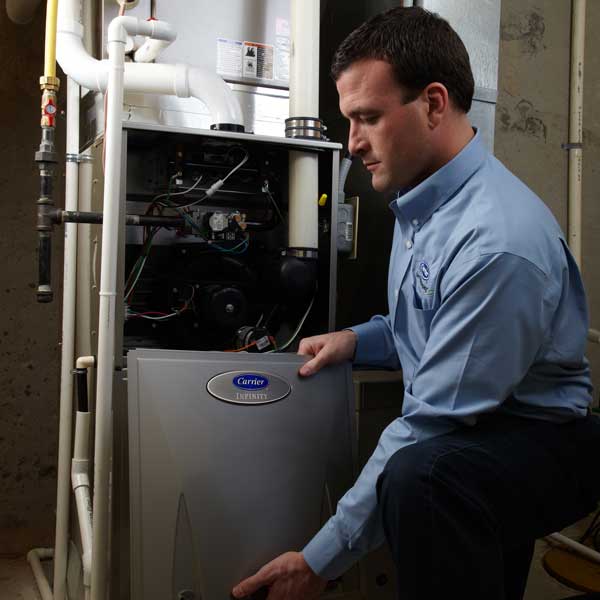 Emergency Repair Service Hotline: (317) 418-2961
When it comes to issues with your home's HVAC system, you don't have to wait for business hours. Whether it's midnight or the weekend, you can rely on Raymoore Heating and Cooling to bring comfort back to your home.
Our heating and cooling emergency repair services are available in Greenwood and Shelbyville, IN and the surrounding communities, 24 hours every day.
Best of all, we offer FREE diagnostics with repair! Save $89 if you choose to have us repair for HVAC system after a thorough checkup!
HVAC Issues that Need Immediate Attention
Although issues with the HVAC system can always feel like an emergency, some are more pressing than others. With minor problems like erratic airflow, you may be able to hold off on calling emergency services and save some repair costs.
However, if you encounter any of the following issues, emergency services are recommended:
The carbon monoxide alarm is going off. Backdrafting appliances, a leaking flue, or a damaged heat exchanger can all set off this alarm. Since carbon monoxide is potentially very harmful to people, it's critical that you call in the professionals to address this immediately.
The HVAC system is not turning on.This can be a huge problem especially if the weather is really hot or really cold. A quick repair can help you avoid further problems with your home or health.
There are unusual noises or smells from the vents. Noises can mean problems with your compressor or combustion, either way, it is serious and can get worse if addressed. Burnt odors can also point to similar issues.
Musty smells can be an indication of mold or bacterial contamination in the system.These should be addressed to prevent health problems.
There is water leaking from the system.This can mean anything from busted pipes, clogged drains, or frozen evaporator coils. If left unattended, these can easily turn into more complex, time-consuming, and costly problems.
Emergency Repair Services for Air Conditioning and Cooling Systems
Summers can get toasty in Indiana, we understand. The humidity can be especially punishing. This is why it's important to have a fully functioning AC system to make sure everyone stays cool and comfortable in this heat.
We're one call away and we can work on the following A/C issues you may encounter:
Failed compressor
Broken blower motor
Frozen evaporator coils
>Frozen condenser
Leaks or clogged condensate drains
Thermostat or other electrical issues>
Emergency Repair Services for Furnace and Heating Systems
When it's cold in Indiana, it gets really cold. It's during these times that your heating system is essential not only to keeping your family comfortable, but healthy as well.
Call us anytime and we'll fix your heating system. Here are the common problems we'd be happy to deal with:
System doesn't start up
Reduced or erratic airflow
Combustion issues
Furnace or boiler issues
Leaks in the flue or heat exchanger>
Call Raymoore Heating and Cooling Now
Don't wait until morning to have your HVAC system up and running at peak condition again. Call us and we'll come knocking.
We are seasoned contractors in the industry and we always deliver stellar results. We've built up a reputation in Shelbyville and the surrounding communities as HVAC experts who always get the job right the first time.