Heating and Cooling System Replacement Experts in Shelbyville, IN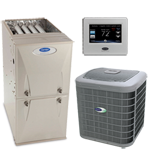 Whether you're upgrading your old HVAC system or replacing one that is no longer working properly, you need the right company to help you choose the best heating and cooling solution and make sure that the installation process is done right the first time.
Raymoore Heating and Cooling has got you covered. We provide heating and cooling systems replacement for homes in Shelbyville and the surrounding areas. We'll get you the right HVAC system and take care of the entire replacement process.
We'll make sure your home stays comfortable and energy efficient, saving you from hassle and additional costs in the long run.
Does Your HVAC System Need to Be Replaced?
>As with most fixtures in your home, a time will come when the repairs in your HVAC system are no longer cost-effective and you will be better served with a new system.
Rest assured that the new HVAC unit's more efficient energy consumption, the less down time, and the lower maintenance cost will more than offset your initial investment.
The following are a few telltale signs that you should replace your existing heating and cooling system.
Most HVAC systems are only designed to last about a decade. If your system is older than ten years and has begun showing signs of wear, it may be time for a new one.
If your HVAC system is now requiring you to call for repairs more and more frequently, replacing it with a new one can be the more cost-efficient path.
If your energy costs have begun to increase, even if you haven't changed your heating and cooling habits, it means the energy efficiency of your HVAC system has gone down and replacing it is the best way to bring down power costs.
If you're unsure whether it's time for your HVAC unit to be replaced, our team of experts can help you decide. We can identify the issues and determine whether repairs are more beneficial for you right now or whether replacing it is the best way forward.
Benefits of Having Your HVAC System Replaced
Whether you're replacing your furnace, boiler, air conditioner, heat pump, or the entire system, there are a couple of advantages that you can enjoy.
Better Performance – A replacement can mean significant improvements to your home's comfort levels.
Energy Efficiency – A new part or system can improve your power efficiency and lower the costs of your overall energy consumption.
Lower Maintenance – New parts, especially when they're installed correctly, generally mean there is less need for maintenance.
Choose Raymoore Heating and Cooling
When your HVAC system is at the end of its operational usefulness, you can count on us to help you choose and install a replacement. Our experts have been working in the industry for years now and we understand the Indiana climate and how best to equip homes to cope.
Call us to schedule a visit. We service Greenwood and Shelbyville, IN and the surrounding communities